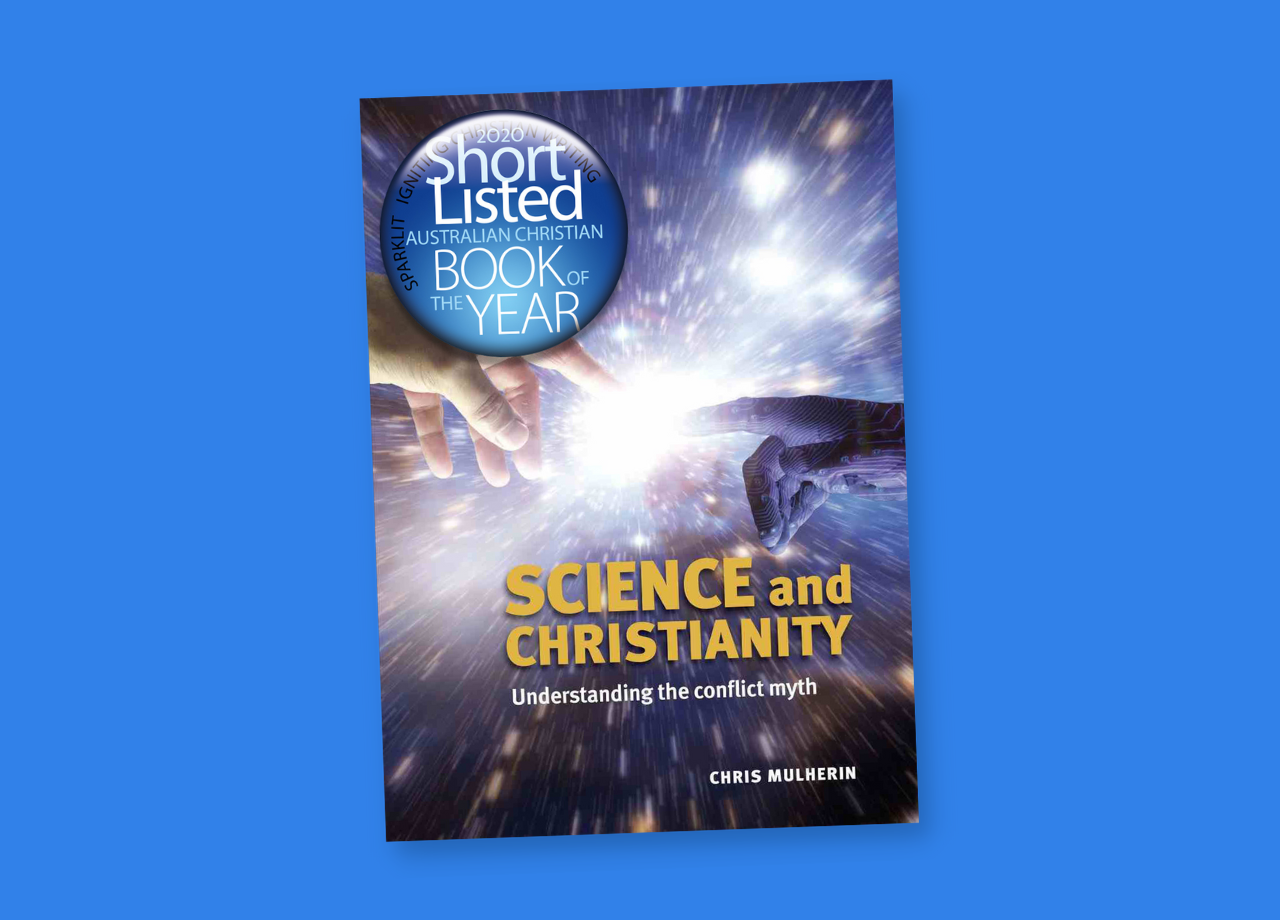 ISCAST Executive Director Chris Mulherin has written an easy-to-read introduction to science and Christianity. This attractive, large-format, illustrated book is written for students, teachers, clergy, parish groups and interested lay people.
The book is available to order through ISCAST for $25 (now $20 for ISCAST members).
The book is free for new members of ISCAST; just join here then send us an email asking for your book.
From the back cover
"I believe in science, so I couldn't be religious." That's the repeated meme in the marketplace of ideas. And, in churches, Christians ask themselves, "Can science and Christian faith live in harmony?"
This easy-to-read book puts these fears to rest. There is no irreconcilable conflict between mainstream science and Christian belief.
Written for students, teachers, clergy, parish groups, and interested lay people, this is an attractive and engaging introduction to the relationship between science and Christian faith.
Science and Christianity ranges from the wonders of quantum theory and genetics to biographies of believing scientists past and present. And it moves from philosophy of science to biblical references as Chris Mulherin clearly outlines the territories and limitations of both science and Christian faith.
Discussion questions at the end of each chapter make the book an ideal resource for personal and group engagement with these important issues in schools and churches.
Commendations
The author has a gift of presenting public lectures on this topic in which he logically, reasonably and thoughtfully puts science into a bigger frame. This book is of the same calibre; it's a clear and helpful book for anyone thinking about how their faith relates to science.
Julie-anne Laird, senior staff worker, Melbourne University Christian Union
Dr Chris Mulherin's book is an excellent introduction to the relation between science and Christian faith. It is extremely well researched and makes a strong case that modern science is consistent with a supernatural view of truth. It is a must-read for the interested lay person, for science students, and for clergy.
Graeme Clark AC, FAA, FRS, (Hon) FRCS, Lasker Laureate, bionic ear pioneer, and patron of ISCAST – Christians in Science and Technology
In this beautifully illustrated book the author provides a readable and well-researched overview of the relationship between science and Christian faith. This is a 'must read' on a topic of great contemporary relevance.
Denis Alexander, Emeritus Director, The Faraday Institute for Science and Religion, Cambridge UK
A question I am asked regularly by High School students is, "How can you teach religious education and science?" Science and Christianity addresses this question in a way that is very accessible for students to understand. The book clearly extols the wonder of science, but also the limitations of science in the realm of questions about meaning and purpose. Science and Christianity provides a helpful entry point into this very important debate.
Karen Hale, science teacher and Head of Religious Education, Ivanhoe Girls' Grammar School
Chris Mulherin has done us all an enormous favour in Science and Christianity. He has tackled one of the most difficult modern conversations in a remarkably brief and beautifully colourful way. I wish I had this book when I was doing science at school. I wish I had it when I first started out in Christian ministry; it would have kept me from many mistakes, on both sides of the science- Christianity debate. I hope huge numbers of students, parents, ministers, doubters, and even atheists, pick up this little book, and absorb its important insights.
Dr John Dickson, author and historian, and Senior Lecturer in Public Christianity at Ridley College, Melbourne
This book explores the questions so many Christians like me grapple with and so often don't know how to approach. Chris, as always, tackles important issues, such as evolution, thoughtfully and with great insight.
Zoe Gerber, biomedical science student, University of Melbourne
As a chemical engineer and bishop, this book is a gem! My education and professional work in science and theology is valued, my intellect respected and I delighted in a clear articulation of the limitations and benefits of science and Christianity. The interweaving of scientists with their particular area of science, historical setting, personal and intellectual interests, and faith is deftly done. Inspiring short biographies earth faith and science in real people in their day and age, and encourage greater appreciation of the achievements gained.
An examination of the history and the nature of science itself, including philosophical assumptions, provides ample scope for a scholarly and accessible read as to sorting out mechanisms and meanings, and avoiding over-reach in either area.
Art work and illustrations add to the ease of reading. The layout is appealing; I kept turning the page to learn more. Discussion questions encourage personal and group engagement with key issues.
I wholeheartedly commend Science and Christianity.
Bishop John Harrower OAM
Science and Christianity was launched in Melbourne in 2019. The text of Bishop Shane Mackinlay's launch address along with Chris's reply, and Rev. Philippa Lohmeyer-Collins' prayer can be found in this PDF document.