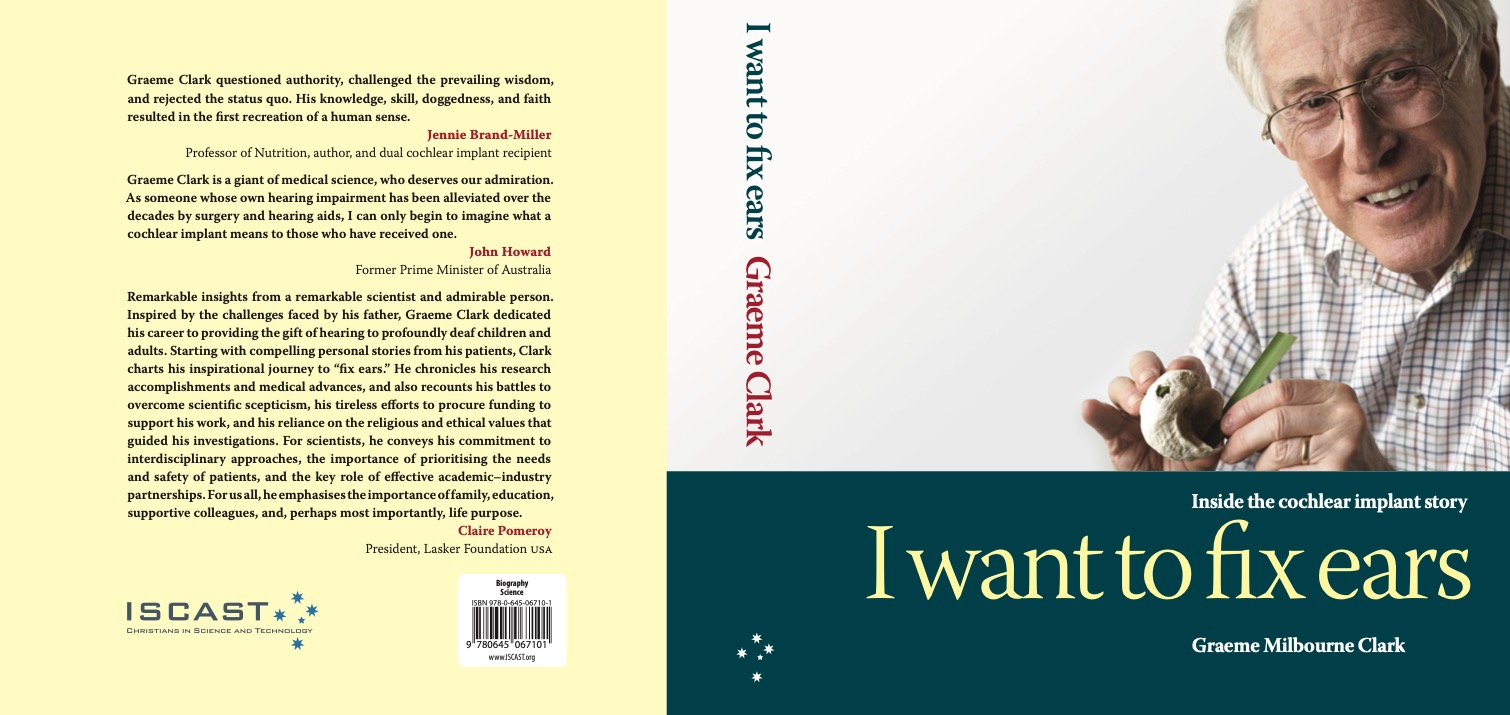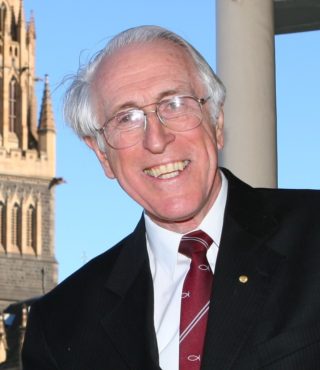 ISCAST is privileged to publish Professor Graeme Clark's inspiring first-hand story of the development of the bionic ear. The book is a fascinating insider's account of a revolutionary scientific development, told by a scientist and Christian. This feature hardback book is now available from ISCAST or online retailers. Graeme is the patron of ISCAST.
Buy the book directly from ISCAST here. (AUD $39.95 or $30.00 for ISCAST members; FREE for new members of ISCAST—Details below)
From the back cover
Graeme Clark questioned authority, challenged the prevailing wisdom, and rejected the status quo. His knowledge, skill, doggedness, and faith resulted in the first recreation of a human sense.
Jennie Brand-Miller, Professor of Nutrition, author, and dual cochlear implant recipient
Graeme Clark is a giant of medical science, who deserves our admiration. As someone whose own hearing impairment has been alleviated over the decades by surgery and hearing aids, I can only begin to imagine what a cochlear implant means to those who have received one.
John Howard, Former Prime Minister of Australia
Remarkable insights from a remarkable scientist and admirable person. Inspired by the challenges faced by his father, Graeme Clark dedicated his career to providing the gift of hearing to profoundly deaf children and adults. Starting with compelling personal stories from his patients, Clark charts his inspirational journey to "fix ears." He chronicles his research accomplishments and medical advances, and also recounts his battles to overcome scientific scepticism, his tireless efforts to procure funding to support his work, and his reliance on the religious and ethical values that guided his investigations. For scientists, he conveys his commitment to interdisciplinary approaches, the importance of prioritising the needs and safety of patients, and the key role of effective academic–industry partnerships. For us all, he emphasises the importance of family, education, supportive colleagues, and, perhaps most importantly, life purpose.
Claire Pomeroy, President, Lasker Foundation USA
Further commendations …
The history of cochlear implant technology is amazing and needs to be told. In the beginning, the idea of restoring hearing was considered too good to be true. Now, as a cochlear implant surgeon, I am a daily witness to the miracle of restored hearing. It is an indescribable joy to hear children born deaf develop normal language after surgery. Thank you Professor Clark for your endurance and marvellous achievements!
Eva Karltorp, Swedish medical specialist and head of a cochlear implant team
Graeme Clark bravely went where no-one had gone before, breaking the barriers of sound perception for the deaf. He did this in a way that is inspirational, using multi- disciplinary teams to deal with a wide range of hearing research questions. His tenacity won him many battles: financial, scientific and personal. This book is a wonderful account of his work and how it has improved the quality of life for the hundreds of thousands of people now using the cochlear implant and for their families, friendsand society.
Jim Patrick, Former Chief Scientist for Cochlear Limited
Criticised, opposed, ridiculed by peers and academia, Graeme Clark led a team to achieve what the world's greatest research institutes could not: the development of the bionic ear. I Want to Fix Ears relates how dedication to science, enduring faith, and a burning passion allowed him to achieve the impossible. "It was as though I was in constant dialogue with a supreme being," he says. A caring, passionate, and driven man, yet one of profound humility, Clark describes in his own words the highs and lows, the trials and the victories of his journey.
Ernest Crocker, Author, physician, NSW Chair, Christian Medical and Dental Fellowship of Australia
Graeme Clark is one of the most important pioneers in biomedical engineering. In this book, he describes all aspects of his personal development from his family history, to practising medicine, and finally the founding of the Bionic Ear Institute. Following his initial inspiration, Clark describes the opposition from the scientific community, the Signing Deaf Community, and also from the public. The secret of his success was his ability to integrate clinical aspects, neurophysiology, biomedical engineering, ethical issues including the ethics of animal experimentation, and last but not least the very brave first patients. Clark demonstrates how a productive and ethical cooperation between academia, government, and industry can work. In addition, Clark demonstrates that faith in God can go hand in hand with scientific and academic pursuits in a fruitful symbiosis. Here are the facts that started the revolution in ear, nose, and throat surgery and in biomedical engineering.
Roland Laszig, Ear surgery pioneer in Germany
Graeme Clark's autobiography breathes the passion that has been his life: a desire to treat hearing loss declared in childhood and followed with dogged determination, culminating in one of the greatest medical inventions of the 20th century—the cochlear implant. Here one gains unique insights into the personal and professional challenges along the way, deeply rooted in family (traced back to the First Fleet) and grounded on Christian faith. Clark's story epitomises what is possible when the focus is upon the challenge rather than the self, and when this is embraced by the team and the community. The success is beautifully expressed by the testimony of those whose lives have been changed. A wonderful read—deeply inspiring.
Stephen O'Leary, Surgeon and Chair of Otolaryngology, University of Melbourne
Our decision to choose a cochlear implant for our eldest daughter in 1991, after meningitis-induced deafness, was one of the most important decisions we ever made. The impact has been far beyond our dreams. Our daughter now has a university education, an interesting job, marriage, and a young son.
Ann-Charlotte Gyllenram, President of the Swedish Association of Parents of Children with Cochlear Implants
I had the privilege of meeting Professor Clark years ago through his extraordinary publications, which led me to carry out my first cochlear implant in 1995. Since then, he has been the inspiration for hundreds of cochlear implants performed in Aragón. I know Graeme personally to be a kind and caring person, full of the same young and hopeful spirit that I first perceived in his brilliant career. Now, he stars in this exciting book, which offers a lesson in life and dedication.
Hector Valles, Director of Otorhinolaryngology, University Hospital of Aragón, Spain
Graeme Clark's pioneering work in creating and developing the cochlear implant
has transformed the lives of the profoundly deaf. Clark is a great Australian scientist, but also a world figure, a humanitarian driven by three factors: science, faith, passion. It is significant that Louis Pasteur's work—and faith—was an early inspiration.
Clark's story is both powerful and touching, self-revelatory, but modest too.
It deserves careful reading.
Barry Jones, Former Australian Minister for Science
The task Graeme Clark set himself—making the deaf hear—was truly biblical in proportion. Indeed, the Gospel of Mark (chapter 7) describes how Jesus made the deaf hear and the mute speak before an overwhelmed audience. Enthused as a boy by the writings of Louis Pasteur, Graeme developed his own esprit préparé or "prepared mind" by deep immersion in the hearing and speech sciences. Sustained by the Christian faith and a loving family, he overcame countless hurdles to make his dream of creating a wearable cochlear implant a reality, thus transforming the lives of countless deaf persons around the world.
Gerard O'Donoghue, Cochlear implant surgeon, Hunterian Professor at the Royal College of Surgeons of England
I congratulate Graeme Clark on his outstanding achievement: the bionic ear. Graeme has a broad vision, is especially innovative and has great insight into human physical and mental conditions. He is creative, gentle and modest, and has transformed the lives of so many people. The origins and applications of the bionic ear are revealed clearly but modestly in this book. As well, the development of his professional career in Melbourne is especially fascinating as is the evolution of love between him and Margaret.
Ian Macphee, Former Australian Minister for Productivity
Pricing details for I Want to Fix Ears
The recommended retail price in Australia is $39.95. Postage is $9.95 in Australia for up to three books. Postage outside Australia will be charged at actual cost.
ISCAST members can purchase the book for $30.00 plus postage by signing in with their membership email address.
The book is also offered as a free welcome gift to new financial members of ISCAST. In order to receive your gift, simply sign up for membership ($80) and then buy the book online selecting the invoicing option. Then send us an email to Contact@ISCAST.org telling us you would like to claim your gift and we will adjust the invoice so that you only pay postage for the book.
Buy the book directly from ISCAST here (up to three copies within Australia) or email us with your order and we will invoice you.