Buy the Multi-Media Edition of Graeme Clark's Autobiography
Graeme Clark's autobiography is now available as an eBook, complete with additional multimedia and bonus stories.
Buy the eBook on Kindle, Kobo, Barnes and Noble NOOK, and most other eBook retailers.
---
See our other products:
---
Inside the Cochlear Implant:
The Science, Faith and Passion Behind the First Recreation of a Human Sense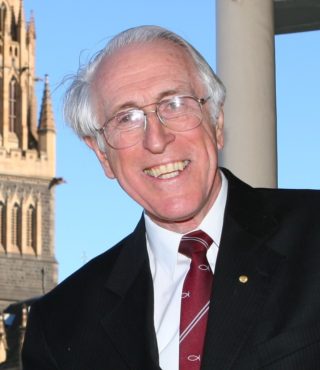 A giant of medical science tells the story of the invention of the bionic ear. After watching his father struggle with hearing loss, Graeme Clark overcame obstacles and opposition to bring the gift of hearing to profoundly deaf children and adults.
Starting with compelling personal testimonies from his patients, Clark charts his lifelong quest to "fix ears." He chronicles his research accomplishments and medical advances, and he recounts his battles to overcome the ridicule of peers, his tireless efforts to procure funding for his work, and his reliance on the religious and ethical values that guided his investigations.
To scientists, he commends his commitment to interdisciplinary approaches, the importance of prioritising the needs and safety of patients, and the key role of effective partnerships between academia and industry.
For everyone, he demonstrates the importance of family, education, supportive colleagues, and life purpose exemplified by his deep Christian faith.
Graeme Clark questioned authority, challenged the prevailing wisdom, and rejected the status quo. His knowledge, skill, conviction, and doggedness resulted in the first recreation of a human sense. An inspiring journey of determination, enterprise, and faith.