Resources
This Resources page is the repository for some ISCAST papers (those not published in CPOSAT) as well as audio and video material. It is stored under general headings. In order to find particular papers, material produced by different authors or contributions by subject, feel free to use the search engine on the top right of this page. You can search by title, author, key word or date, or use the topic headings on the right.
INDEX:
4. Conference on Science and Christianity (COSAC)
6. Audio Links
9. Links
ISCAST Presentations
Deep Ancestry: The Journey of Man - Dr Ian McFarlane
New Developments in Military Technology - James Garth
God's Deputy: Divine Law and the Laws of Nature - Dr Larissa Aldridge
Syriac Christianity & transmission of Greek science to the Arabs - P.Eyland
An outline of the Test of FAITH course - Prof. Peter Barry
Manufacturing Humans - Prof. Gareth Jones
Neuroscience, Addiction and the Gospel - Dr Alan Gijsbers
Planetary Defence: Are We Ready? - James Garth
Random Designer - Prof. Richard Colling
Comments on "A Scientific Theology" - Alec Wood
Care When There Is No Cure - Andrew Cole
The Bankruptcy of Scientific Atheism - Prof. Alister McGrath
Bodies and Souls or Spirited Bodies - Noel Hickson
Darwinism, Creationism, ID & Theistic Evolution - T.Peters & M.Hewlett
Where Richard Dawkins is not a scientist - Dr Greg Clarke
'Then a miracle occurs': blessings & limitations of science - Rev. R. Forsyth
On Bridge-building: Coming to peace with biology in an age of ID & YEC - Prof D.Falk
ISCAST Past Papers
Archive of ISCAST Papers - Various Authors
ISCAST Intensive

Keynote Lecture: Technological inroads into the beginnings of human life: Social, ethical and religious repercussions - Gareth Jones
Keynote Lecture: Diversity and Uncertainty: A productive interface between science and Christianity? - Gareth Jones
God and the Natural Sciences - Stephen Ames
Do we need to rethink the Pill? - Denise Cooper-Clark
On the Fixity and Fluidity of Species - Brian Edgar
Cosmology, Apologetics and the Will To Believe - James Garth
Biblical Anthropology and its Impact on Addiction Care - Alan Gijsbers
The challenge of different Christian approaches to the environment debate - Richard Gijsbers
Reading Scripture Badly: The technological threat to biblical literacy - Murray Hogg
'Miracles 101' or 'Miracles and Magic' - Helen Joynt
C.S Lewis on Scripture, Science and Technology - Bruce Mewjork
Scarcity or Abundance? - John Modra
Thinking about Slaves, Women and Homosexuals: a redemptive-movement hermeneutics and the evangelical Webb - Chris Mulherin
Can we really listen both to the Bible and to our fellow Christians on contested issues of sexual behaviour and relationships? - Geoffrey Nutting
How to Read the Bible in the 21st Century - Frank O'Dea
Reading Scripture in the light of modern science - John Pilbrow
Spherical Cows and the Search for Truth: Modelling in Science and Scripture - Michael Smith
Research Ethics: How does 'believing the Bible' affect the way a scientist does science? - Andrew Wood
Conference on Science and Christianity
2011 COSAC - Proceedings
2009 COSAC - Proceedings
2007 COSAC - Proceedings

2005 COSAC - Proceedings
Multimedia Links
CNN Interview - Dr Francis Collins
Faith and Science - Prof. Alister McGrath
Debate - Religion: The Centre vs. The Fringe - McGrath / Hitchens
God and the Brain - Prof. Gareth Jones
Large Hadron Collider - Prof. Brian Cox
The Design of the Universe - Dr George Smoot
Fantastic Voyage Inside a Cell - David Bolinsky
A Conversation with Nancey Murphy and Jeffrey Schloss
God's Mechanics - Brother Guy Consolmagno
The Hour Interview - Prof. Alister McGrath
Creator or the Multiverse? - Prof. John Lennox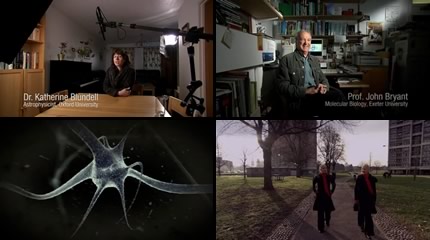 Test of Faith - The Film & The Book
Audio Links
Quarks and Creation - Revd Dr John Polkinghorne KBE FRS
Article Links
Has Science eliminated God? - Prof. Alister McGrath
Faith, Hope and Doubt in times of Uncertainty - Prof. George Ellis
Speaking, in Love, the Truth about Creation - Dr Del Ratzsch
Is Science the Only Sure Path to Truth? - Rev Prof. Keith Ward
Big Science, Big God - Prof. Sir John Houghton
Christianity, science and rumours of divorce - Chris Mulherin
Science as ideology betrays its purpose - Chris Mulherin
The Science and Religion Debate - an Introduction - Revd Dr John Polkinghorne KBE FRS
Does Science Need Religion? - Prof. Roger Trigg
Models for Relating Science and Religion - Dr Denis Alexander
The Anthropic Principle and the Science and Religion Debate - Revd Dr John Polkinghorne KBE FRS
Why care for the environment? - Prof. Sir John Houghton FRS
Reductionism: Help or Hindrance in Science and Religion? - Dr Michael Poole

Dialogue and Debate
Review of Lennox / Singer Debate: Is There A God? - by James Garth
Does the Universe Have a Purpose? - A Templeton Conversation
Does Science Make Belief in God Obsolete? - A Templeton Conversation
The Question of God - The PBS Series
Engaging with the New Atheism - Resources and Reading List
Links
American Scientific Affiliation - A Fellowship of Christians in Science
Baylor University - Truett Theological Seminary Lectures
Bethinking.org - UCCF's Apologetics Resource Site
Big Questions Online - a publication of the John Templeton Foundation.
BioLogos - A community of evangelical Christians
Christians in Science - UK-based professional network
Closer to Truth - Cosmos, Consciousness and God
Crucible - Online Journal of Theology and Ministry
CTNS - The Center for Theology and the Natural Sciences
Encounter - ABC Radio National program
GCRI - The Graeme Clark Research Institute
ISSR - The International Society for Science and Religion
James Gregory public lectures on Science and Religion
John Templeton Foundation - Investing in the Big Questions
The Faraday Institute for Science and Religion
The Global Spiral - A Publication of the Metanexus Institute
The John Ray Initiative - Scientific & Christian understandings of the environment
Public Christianity.org - Centre for Public Christianity
Science and Faith - Berea College Resource Site
Science and Religion Today - A Science and Religion Blog
Southern Baptist Theological Seminary - Norton Lectures
TANSA - Theology and the Natural Sciences in Aotearoa
TANSA-talk - TANSA Discussion Blog
Zadok Online - Zadok Institute for Christianity and Society
Zygon - Journal of Religion & Science